Home > Services > Laser Removal
Laser Removal Treatments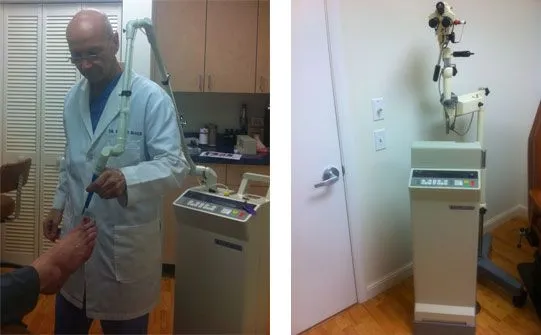 Laser surgery is a great alternative to traditional surgery. Less painful and more effective, Dr. Block uses a laser to remove the affected tissue in the foot without touching the surrounding tissue. This treats and eliminates problems, including:
Fungus
Warts
Ganglion Cysts
Dr. Mark Block utilizes the most technologically advanced surgical procedures to aid in your quick recovery and decrease the chance of infection and discomfort. Best of all, our outpatient procedures can be done in our convenient office.
Dr. Block preforms in-office laser treatments for all types of fungus nails and plantar warts; so you can quickly return to normal activities. In addition, we have the latest sprays, disinfectants, nail polishes and soaps to conveniently use at home.


For more information on laser removal treatments
contact our Boca Raton, FL office at (561) 368-3232